Welcome to the Carmilla Wiki!
Welcome to the Carmilla Wiki, the place for all things related to the web series Carmilla. This Wiki is still under construction, so if you see any improvements to be made, it'd be awesome if you could add them in.
The information on this Wiki follows Carmilla the web series, not the novella. If you haven't already watched the series or still have some episodes left, since this Wiki is not spoiler-free, it is advised to read only after you're fully caught up with the show.
About Carmilla
Carmilla is based on the J. Sheridan Le Fanu novella of the same name, published in 1871. The series, produced by Smokebomb Entertainment , is a multi-platform media experience with multiple outlets on social media sites. Set at Silas University in Styria, Austria, the story follows Laura Hollis' search for her missing roommate, Betty, and Laura discovering the mysterious truth behind her new roommate, Carmilla.
Featured Videos
Edit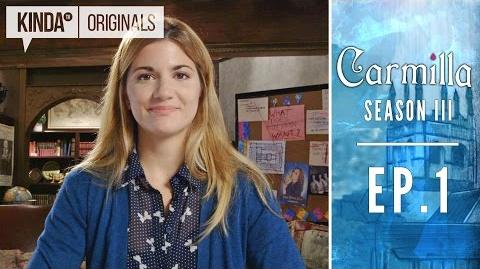 Favorite U by Kotex Video
News Feed

 

Edit
Natasha and Elise grace the cover of DIVA's December issue!
Featured Social Post
Edit
Fight Rehearsal - @HotLadyPants

Act 1 Shenanigans! - @HotLadyPants 
Poll of the Month
Edit
Featured Blog Posts
Edit
Favourite Moments from Season 3 Act I

Links

Merchandise
Official Instagram
Offical Tumblr
Official Twitter
Youtube Channel
Social Networks
Edit
Ad blocker interference detected!
Wikia is a free-to-use site that makes money from advertising. We have a modified experience for viewers using ad blockers

Wikia is not accessible if you've made further modifications. Remove the custom ad blocker rule(s) and the page will load as expected.