The Roommate
Season One, Episode 3

Vital statistics

Air date
August 19, 2014

Episode guide

Previous
Next
Missing
Freak OUT
"The Roommate" is the third episode of Carmilla. It aired on August 19th, 2014.
Laura deals with her new "roommate", Carmilla, and documents the "Incursion of Room 307." 
Synopsis
Edit
Carmilla's sudden arrival puts both tenants on edge. Laura is deeply upset that the school solution to her missing roommate was to give her another one, and demands that Carmilla leave. The gothic girl brushes her off and points out that she has authorization from The Dean to reside in the room.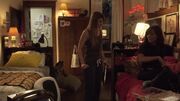 Carmilla seizes upon Betty's belongings, acquiring anything she desires, before taking over Betty's side of the room entirely. Laura attempts to convince her that the bed and belongings aren't hers to use, but Carmilla asserts that if Betty returns, she'll leave, but until then she and Laura will be rooming together.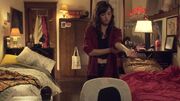 Three days pass before Laura recounts the events since Carmilla's arrival. Betty is still missing, and Carmilla has demonstrated less than desirable traits as a roommate. She uses Betty's clothing as her own and steals food from Laura, in addition to being remarkably untidy and spending much of the day unconscious. To Laura's confusion, she spends most of the night with a 'study buddy', who Laura theorizes she's likely dating.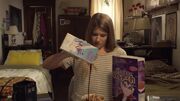 With her recounting finished, Laura announces her retaliation against Carmilla, by way of spreading rumors and seizing the soy milk that Carmilla explicitly told her not to touch. Laura then prepares to eat her meal with the soy milk, only to discover as she pours out the contents that it is in fact not milk, but blood, in the container.
Paige Haight, who portrays Elsie, was actually an intern at Smokebomb, but has now become a permanent member of the staff.
While the character of Elsie has not been a major character in the main series, she actually has her own successful spinoff, The Elsie Chronicles.
This episode marks the first appeance of Elsie.
Cultural References
Edit
Possession is nine-tenths - Carmilla references an expression meaning that possession is easier to maintain if one possesses something.
Laura: My what?
Carmilla: Your new roommate.
Laura: I have a roommate
Carmilla: Well, don't you catch on fast.
Laura: Oh, this is not happening. You are not my new roommate! I'm gonna find Betty, and you're gonna be out of here so fast there's gonna be scorch marks on those leather pants of yours.